There aren't any items in the slideshow.
What We Offer
Your Health and Wellbeing
Benefits News
Join our Healthy Sleep Challenge for your chance to win $25!  
Fill out this sleep diary for 2 weeks any time between June 1-30 and submit to Devan.Gengler@Cigna.com for your chance to win $25*. 
Sleep diaries must be submitted by July 7 to be entered into the raffle. 
Five lucky winners will be notified by July 14 
*Prizes are available to active, benefits-eligible employees who have not received a wellness incentive in the last 6 months. 
---
---
Congratulations City of Tucson on being the Phoenix Business Journal's #5 Healthiest Employer in the large company category!! 
Up 3 spots from last year!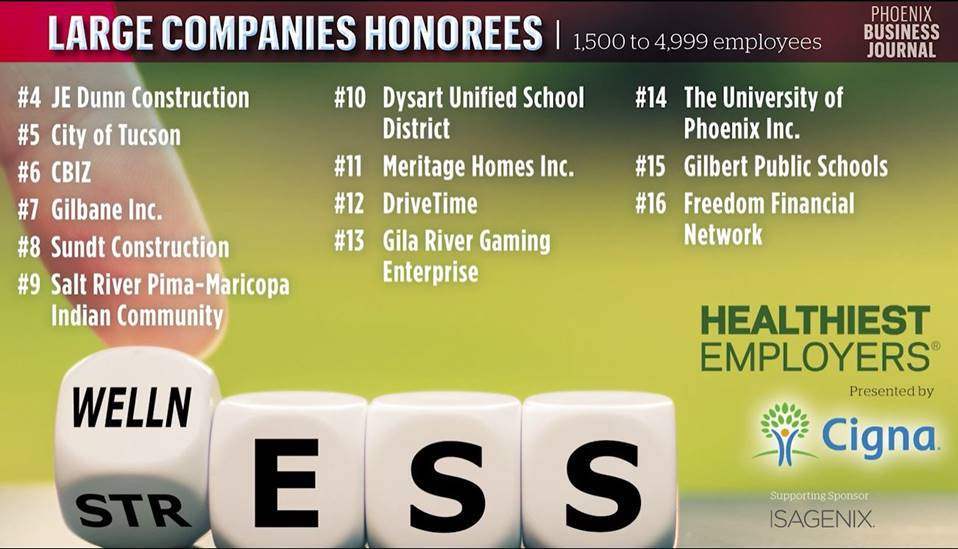 ---
January – March Wellness Incentive Winners!
Congratulations to our first quarter wellness incentive winners! The list below includes winners from MotivateMe, the Get Moving 750 Challenge, Wear Red Day, and Healthy Bingo.
---
Adriana Nasca


Adriana Quintero
Adriane Ackerman
Alfredo Rosete
Alon Hackett
Ana Juarez
Andi Garcia
Andrea Frank
Andrea Mejia Flores
Andrew Rico
Angel Flores
Angela McIntyre
Ann Chanecka
Ann Moser
Anthony Archibald
Ashley Boisclair
Barbara Sanchez
Ben Elias
Beth Lucas
Brenda Navarro
Brenda Sanchez
Brian Berg
Brian O'Sullivan
Brittany Aldrich
Bruce Stevens
Cathy Kiser
Christopher Mcmillen
Chrystal Rodriguez
Daniel Armenta
Daniel Sotelo
Danielle Long
David Villalovos
Dawn Brown
Dawnee Moreno
Deborah Nunez
Desiree Cornell
Diane Marquez-Sotelo
Don Parks
Echo Acosta
Elizabeth Morales
Eric Quarrell
Erica Cramer


Erik Morales





Eva Ahumada


Fernando Moraga
Francis Hand 
Francisco Carranza 
Francisco Soto 
Gabriel Hernandez 
Gioia Sanderson 
Glenna Overstreet 
Grant Weinkam 
Gregory Orsini 
Griselda Acuna Obregon 
Henry Gamez 
Ian Snyder 
Ivonne Keyes 
Jacquelyne Vega 
Jaimie Galayda 
Janet Rico Uhrig 
Jasmine Chan 
Javier Garcia 
Jeanette Figueroa 
Jeffrey Klotz 
Jennifer Psillas 
Jessica Rodriguez
Jill Anderson
Jinixa Morales
Joe Stubbins
Joe Van Zeeland
John Coleman
Johnny Walker
Jonathan Zaugra
Jose Flores
Joseph Ahumada
Joyce Hardage
Julianne Hughes
Julissa Galindo
Karen Wilken
Karla Victoria
Kat Jacobs
Kayla Floystop
Kimberly Lecy
Kimberly Munoz
Kristina Othon
Kyle Wilson


Laura Bazurto Mathews

Laura Hodgson


Laura McAndrews Gomez
Lauren Gormally
Leticia Riesgo
Liddie MacNeil
Lisa Labate
Lizette Perdomo
Loren Makus
Lucy Lucero
Lynette Kaplan
Lynn Leflohic
Lynn Monday
Lynn Spitzer-Lizardi
Marcella Aguilar
Margot Grossmann
Maria Robinson
Mariza Trujillo
Mark Cromey
Martha Hare
Martha Van Winkle
Mary Placencia
Mary Wright
Matthew Boepple
Matthew Lott
Melanie Bodenheimer
Melanie Boshens
Melissa Martinez
Michael Clement
Michael Hayes 
Michael Ross 
Michael Sanders 
Michael Schierling 
Michael Whetton 
Michelle Martinez
Mike Fisher
Monica Barcenas
Nicole Gillett
Nina Jones
Norma Camacho
Pamela Lyons
Pati Valenzuela-Giffney
Patricia Alvidrez Sierras
Patricia Camacho


Patricia Lucas

Patrick Pina Jr


Paul Pier
Paul Ponce
Priscilla Carranco Najera
Ranee Rowe
Rebecca Hill
Rebecca McPherson
Renet Martin
Rey Granillo
Rogelio Gaxiola-Pacheco
Samuel Credio
Sarah Blayda
Scott Gallo
Sheila Garcia
Shellie Ginn
Shelly Urias
Sherry Martin
Sonia Yost
Stacey Ocskai
Stephanie Brooks
Stephanie Neal
Steven Herran
Susana Castillo
Sylvia Martinez
Tanja Kaletsch
Tatiana Hestmark
Terri Bunting
Terry Galligan
Timothy Seamans
Tony Windsor
Traci Eller
Tracy Garcia
Troy Rombough
Valerie Berg
Valerie Herman
Vidin Metelov
Wanda Omdahl
Yang Chee Yan Celia
Yarby Anthony
Yolanda Parker Rizzoli
Yvette Olivas




---